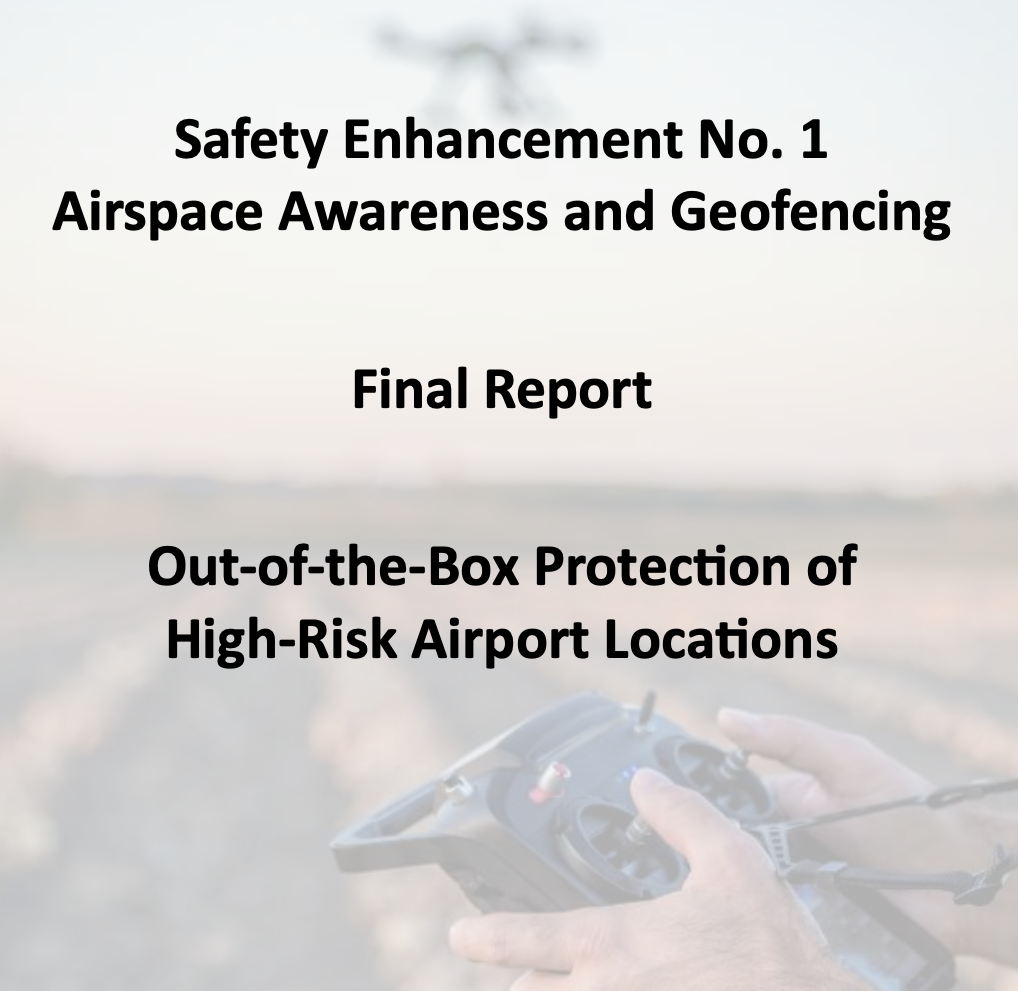 Safety Enhancement No.1 Airspace Awareness and Geo-fencing
Contents
1. Background
2. Scope
3. Recommendation
4. Definition of Terms
5. High Risk Locations to Protect
6. Method of Geofencing: Technical Considerations
7. Method of Geofencing: Recommended Areas and Shapes
8. OEM Considerations for Geofencing Implementation
DOWNLOAD THE PDF FOR THE FULL REPORT BY CLICKING THE DOWNLOAD LINK
Airspace Awareness and Geofencing
Purpose
The Drone Safety Team (DST) is an industry-government partnership committed to ensuring the safe operations of unmanned aircraft systems (UAS) in the national airspace system (NAS). The DST supports the safe integration of UAS by developing data-driven and consensus-based safety enhancements through collaboration among members of the UAS industry. The DST identified Airspace Awareness and Geo-fencing as one its first three safety enhancements (SE-1), with several underlying intervention strategies. A working group of DST subject matter experts and stakeholders was formed to develop this first white paper emphasizing the benefits of geo-fencing protections as an out-of-the-box solution to mitigate risk at high-risk airport locations.
This document provides an example of how the DST is able to leverage industry partnerships and collaboration to develop solutions focused on improving awareness and enhancing safety in the NAS.
Scope‌
The objective of SE-1 Airspace Awareness and Geo-fencing is to reduce the risk of collision with other aircraft or structures by improving airspace awareness (of operators) and geo-fencing capabilities (of systems).
The DST identified two areas that should be addressed:
Education, outreach (and possibly credentialing) centered around airspace authorization.
Enabling technology safety features to help prevent flight into unauthorized airspace. The DST supports concurrent UAS safety enhancement efforts focusing on individual operators,product manufacturers, and service providers alike. While other industry and government efforts are ongoing that will address the education, outreach, and credentialing aspects of SE-1, this white paper focuses one specific technology – geo-fencing, for industry consideration and system integration.Further, this white paper is limited to one specific recommendation regarding geo-fencing. Other recommendations may follow in the future.The DST acknowledges that subsequent refinement of concepts proposed in this document or related standards and specifications must be jointly developed by qualified government and industry stakeholders (e.g., FAA, ASTM, RTCA, etc.).
Recommendation‌
The DST recommends that geo-fencing be implemented on small UAS platforms for high risk locations, namely the FAA-designated primary airports within Class B and Class C airspace. Geo-fencing protection should be provided 'out-of-the-box' and can only be overridden by a defined process. Coverage area should be determined based on the performance and geo-fencing capability of the UAS. This recommendation is intended to help prevent inadvertent, careless, or reckless flight in proximity to frequent flights of manned aircraft.

Continuous improvement is a goal for any SMS, and continually improving this important guidance is a goal of the DST.
The Drone Safety Team (DST) advocates the use of Safety Management Systems (SMS) for uncrewed aircraft systems (UAS) operations because using an SMS is a structured means for individuals and/or organizations to make informed safety risk management decisions. An SMS provides an accountable way to manage safety before a system failure occurs. In addition, an SMS can deliver increased confidence in risk controls through structured safety assurance processes. Finally, the safety promotion framework within an SMS can be used to build and support a sound safety culture.