Getting Started
Welcome to the rapidly growing world of unmanned aircraft system (UAS) operations, also known as drones! Whether you are just getting started as a recreational UAS operator, or perhaps interested in using drones for commercials applications, there are some things to keep in mind to make this a safe and enjoyable experience for you and those around you: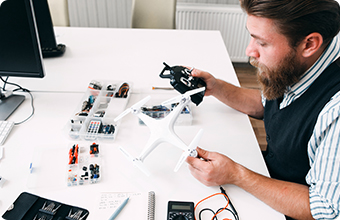 Gear: Do you understand how the UAS you purchased operates? Have you taken the time read the accompanying manufacturer's materials and possibly viewed online tutorials to understand the ins and outs of your system before you take flight?
Planning: Do you know where UAS operations are permitted? Have you downloaded the knowbeforeyoufly app and followed the links that help you find safe operating locations?
Skills: Are you building up your skills or possibly attending online courses that help novice operators refine their piloting skills?
If the answer to all three questions is yes, then we congratulate you for becoming another member of the community of safe, responsible drone pilots. Here are some other practical tips that should come in handy:
If you want to fly drones or model aircraft for fun, we recommend flying within the programming of a community-based organization such as the Academy of Model Aeronautics (AMA).
If you are operating a UAS outside and it weighs more than 250 grams or .55 lbs., you need to register it before flying. Learn how at the FAA's Drone Zone web site: https://faadronezone.faa.gov/.
Unless you are operating under specials rules or waivers you need to keep your aircraft in eyesight at all times, and use an observer to assist if needed.
Please remain clear of other aircraft operations. You must see and avoid other aircraft and obstacles at all times!
Do not fly over unprotected persons or moving vehicles, and remain well clear from individuals. You must avoid sensitive infrastructure or property such as power stations, water treatment facilities, correctional facilities, heavily traveled roadways, government facilities, etc.
Stay within your limits (and manufacturer guidelines) in weather conditions such as high winds or reduced visibility.
Have that adult beverage after you fly! Drugs and alcohol do not mix well with drone operations.
Check and follow all local laws and ordinances before flying over private property.
Do not conduct surveillance or photograph persons in areas where there is an expectation of privacy without the individual's permission (see AMA's privacy policy).
Have fun!